Game Four Photos
of the 2010 MLB World Series

| | |
| --- | --- |
| Darren O'Day #56 | Brian Wilson #38, Buster Posey #28 & Juan Uribe #5 |
The San Francisco Giants celebrate their 4-0 victory over the Texas Rangers in Game Four.
| | |
| --- | --- |
| Madison Bumgarner #40 | Fans of the Texas Rangers |
Buster Posey #28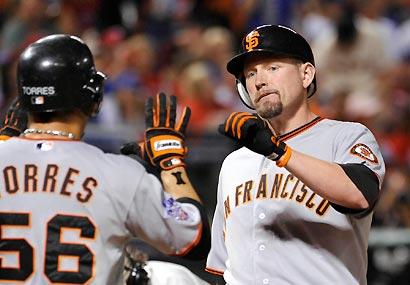 Huff the Hero
The worst day of

Aubrey Huff's

life came at age 6 when his father was shot and killed as an innocent bystander in somebody else's domestic dispute. So by comparison, sitting at home eight years later watching Nolan Ryan pitch a no-hitter for the Texas Rangers with unused tickets to the game sitting next to the couch just stung a little. Huff's mother, Fonda, was given the tickets at the Winn-Dixie supermarket where she worked. When her son's own baseball practice went late, she realized they couldn't make the 90-minute drive from tiny Mineral Wells to Arlington in time for the game. They watched on TV instead and Huff cried in the ninth inning as Ryan blew away the Toronto Blue Jays for his seventh and last no-hitter.



Fast forward 19 years. Huff made it to Rangers Ballpark in plenty of time and brought untold numbers of Rangers fans to tears by blasting a two-run home run that helped the San Francisco Giants win Game 4 of the World Series 4-0 Sunday night. Sitting in the front row was none other than Nolan Ryan, now the Rangers president.

"Nolan was always my idol," Huff said. "I wanted to be a pitcher because of him, but it turns out I didn't throw very hard."



Giants rookie Madison Bumgarner isn't exactly Nolan Ryan either, but he delivered a performance as unforgettable as any no-hitter, pitching eight scoreless innings to put the Giants on the cusp of their first Series championship in their 53-year history in San Francisco. They last won a title in 1954, the year Willie Mays made his legendary over-the-head catch against the Cleveland Indians.
"He stole the show," Huff said of Bumgarner. "He's fearless."
One night after pulling back into the Series with a Game 3 victory, the Rangers were strangely punchless against the 21-year-old Bumgarner and closer Brian Wilson, managing only three hits. It was a game in which one big swing made the difference, and it came from Huff, who grew up a huge Rangers fan, listening to games on the radio while his mom worked the seafood and meat counter at the Winn-Dixie.
"As soon as I hit it, I knew I had it," Huff said. "To come back home and do something like this was certainly a thrill."
A few years after Aubrey Huff II was killed in December 1983 while trying to wrest a handgun from an enraged Abilene man intent on shooting an apartment manager, Fonda used her credit card for a pitching machine and materials to build a batting cage behind the family's trailer. The cage helped Aubrey cope with the emptiness of a fatherless upbringing, filling the hours with hundreds of swings. Along the way, he became a pretty good hitter.
"That was my whole goal in life," Fonda told the Baltimore Sun in 2007. "They were not going to do without just because their dad was killed."
Said Aubrey: "I told my mom one day that I wanted to be a pro baseball player. I was 8 or 9 years old. She bought me a batting cage on a whim, did it to keep me out of trouble as much as anything. But I wouldn't be here if it wasn't for her making that decision."
The Huffs moved to Fort Worth when Aubrey was 16, and he played baseball and basketball at Brewer High School. A year later, the Rangers took residence in their new ballpark, the one Huff silenced with one swing Sunday night.
"I probably went to 100 games at the old Rangers stadium and here," he said. "I was at the final game at the old park, when they moved home plate over to the new one. I watched that whole ceremony."
Huff wasn't drafted out of high school and attended a junior college on the Texas Panhandle for a year. He gained 25 pounds, developed power and was recruited by high-powered University of Miami. But he was so homesick that after a week he had Fonda travel to Florida to take him home. She made the trip but wouldn't let him leave. Eventually Huff made friends – among them current Giants teammate Pat Burrell – and set school batting records.
The Tampa Bay Devil Rays drafted him and for the last 11 years he carved out a solid if unspectacular career playing with mostly losing teams. A free agent after the 2009 season, he was contemplating retirement in January because nobody offered him a job. Finally the Giants – in desperate need of power – signed him for one year and $3 million.
"It didn't sound too appealing hitting in that yard," he said, referring to the large outfield dimensions at AT&T Park. "But I had to jump on it."
Huff responded with a tremendous season, batting .290 with 26 homers, 86 RBIs and an .891 OPS. A left-handed hitter, he has held down the No. 3 spot in the batting order against right-handed pitchers. And against the Rangers' Tommy Hunter, he drove the first pitch, an 86 mph cutter, over the right-field fence with Andres Torres on base. The home run gave the Giants a 2-0 lead, which they extended with single runs in the seventh and eighth innings.
In the stands cheering for Aubrey was Fonda, who long ago moved on from the Winn-Dixie. She earned her teaching credential and master's degree, and after a long teaching career in Texas and Florida now mentors math teachers.
And thanks in large part to her son, anybody can do the math now: The San Francisco Giants need one victory over the next three games to win their first World Series championship.
San Francisco Giants Beat Texas Rangers 4-0 in Fourth World Series Game.
Father and son time: The presidents Bush deal Game 4's first pitch
ARLINGTON, Texas — George W. Bush came into Sunday's Game 3 of the World Series with a reputation as the best first pitcher in presidential history to uphold.

Mission, uh, accomplished.

With his father George H.W. Bush looking on from just a few feet away, the experienced Republican righthander threw an impressive no-bounce heater to Texas Rangers team president Nolan Ryan behind the plate. While the pitch had nowhere near the emotional impact of Bush's strike during the 2001 World Series after 9/11, it was a big moment for Bush, who used to own the team, and for his family's constituents in the state of Texas.


Indeed, the standing-room only crowd at Rangers Ballpark stood and cheered as the two former presidents emerged from left field in a golf cart driven by the younger Bush. San Francisco Giants outfielder

Cody Ross

was so moved by the moment that he broke from the left field line — and any concerns that he'll be welcomed back to San Francisco — to shake the elder Bush's hand as the golf cart passed by.

Bush's pitch was followed by loud chants of U-S-A! U-S-A! from the crowd dressed in red and blue.

Regardless of your politics, it's hard to disagree that Bush is probably the biggest baseball fan that the Oval Office has ever seen. He loved welcoming World Series teams to the White House, has been a fixture at Rangers Ballpark since leaving office and has even been mentioned as a replacement for Bud Selig when (and if) he stops being commissioner. (Bush has said in the past that he has no interest.)

Also, if you know anything about the Bush family, you know it's no big surprise that he loves the sport. Fox TV cameras caught Barbara Bush looking intense while keeping score early in the game and the best part about Sunday's throw might be that H.W. wore a generic World Series windbreaker instead of any Rangers gear.

The explanation for that wardrobe selection, of couse, is simple.

Both George and Barbara are huge Houston Astros fans.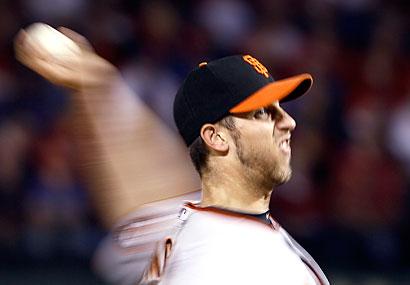 Madison Bumgarner
Bumgarner pitches Giants to brink of Series crown
By BEN WALKER, AP Baseball
ARLINGTON, Texas (AP)—

Madison Bumgarner

allowed three hits in eight innings,

Aubrey Huff

and

Buster Posey

homered and San Francisco beat the Texas Rangers 4-0 on Sunday night to take a 3-1 World Series lead and move within one win of the Giants' first title since 1954.



Bumgarner, San Francisco's 21-year-old No. 4 starter, didn't allow a runner past second base. Brian Wilson finished with a hitless ninth for the Giants' second shutout of the Series.

Huff hit a two-run homer in the third off loser Tommy Hunter. Andres Torres added an RBI double in the seventh against Darren Oliver, and Posey homered in the eighth off Darren O'Day.

In Game 5 on Monday night, opening-game winner

Tim Lincecum

pitches for the Giants against Game 1 loser

Cliff Lee to save the Rangers' season in Game 5.

The 21-year-old Bumgarner and closer Brian Wilson helped the Giants become the first team to post two shutouts in a World Series since Baltimore threw three straight to close out the Dodgers in 1966.

Huff's two-run homer in the third gave Bumgarner all the support he needed. Posey added a solo shot in the eighth—Bumgarner and Posey became the first rookie battery to start in the Series since Spec Shea and Yogi Berra for the Yankees in 1947.



Even though Bumgarner got relief help, it was a complete game for the Giants. Andres Torres(notes) and Edgar Renteria each got three hits and their teammates made almost every play in the field.

Make it great D in Big D.

Left fielder Cody Ross came up with a shoestring catch, second baseman Freddy Sanchez made a leaping grab and Posey threw out Josh Hamilton trying to steal. Bumgarner helped himself, too, knocking down Hamilton's scorcher up the middle.

Coming off a 4-2 win Saturday night, the Rangers and their fans were ready to even this Series. Earlier in the day, about a quarter-mile away at Cowboys Stadium, Dallas dropped to 1-6 with a 35-17 loss to Jacksonsville. Two little boys held up signs inside that read: "Hurry Up Cowboys … I Have a Rangers Game to go to."

The father-and-son team of George H.W. Bush and George W. Bush threw out the ceremonial first ball in what Major League Baseball said was the first time two former presidents attended a World Series game.

The elder Bush's wife, Barbara, even kept score from her front-row seat next to the Texas dugout. There wasn't much to write down—not on the Texas side, anyway.

Bumgarner didn't permit a runner past first base until the seventh. Facing his only jam, he retired Ian Kinsler on a fly ball to strand two runners and preserve a 3-0 lead.

Bumgarner struck out Vladimir Guerrero three times, the first time the star Texas designated hitter had done that this season.

Wilson closed with a hitless ninth.

The Giants tweaked their lineup, benching strikeout machine Pat Burrell and making Huff the DH for the first time this season. Bochy put Nate Schierholtz in right field and Travis Ishikawa at first base—fine fielders, not great hitters. That's more the NL way, where spare bats rarely grow on the bench.

Washington came off his bench twice to discuss calls with first base umpire Jeff Kellogg. Both plays were bang-bang, and replays seemed to show both were misses that went against the Rangers.

Thwarted early, the Giants took a 2-0 lead in the third on Huff's homer. Torres led off with a grounder that hit the first-base bag, kicked up and rolled into the corner for a double. Sanchez failed to advance him and was still shouting at himself down in the dugout tunnel when Huff hit a long drive to right.

Huff homered on the 62nd pitch overall from Hunter, who tossed strikes but couldn't throw the ball past anyone. Alexi Ogando began warming up in the Texas bullpen in the third and replaced Hunter in the fifth.

Ogando set down five straight batters, then bounced a breaking ball to the sixth and immediately grabbed his left side. A trainer went to the mound, Ogando came out and Darren Oliver(notes) relieved.

The Giants took an aggressive approach from the get-go. After Torres led off the game with an infield single, Bochy ordered up a bunt, hit-and-run and a steal—all with Sanchez at the plate.

Hamilton kept things scoreless in the Giants second. The All-Star center fielder charged hard to make a diving, backhanded catch on a blooper by Schierholtz that stranded runners at the corners.

Notes: At 21, Bumgarner became the fifth-youngest pitcher to start in a World Series. Bullet Joe Bush was 20 for the Philadelphia Athletics in 1913. … Hunter has not gotten past the fourth inning in any of his three postseason starts. He went 13-4 during the regular season. … Huff hit his first homer since Sept. 25. … Hunter fielded Renteria's bat after it slipped out of his hands and slithered to the mound in the second. Hunter politely handed it back to Renteria. … Ishikawa, making his first start since Aug. 14, scraped his chin making a headfirst dive into third base.



Game Photos
of the 2010 MLB World Series

Click a photo to link to a page on our website. Links are found on nearly all Web pages.
Links allow users to click their way from page to page. You will find thousands of links on this website...


To all Visitors
This site has been developed not just to sell
Antiques
and
Collectibles
(of course it does some of that) rather it is to provide information about Antiques, Collectibles,
artwork
,
art pottery
,
furniture types
,
furniture styles
,
jewelry
, and
militaria
from the
Revolutionary War
to the
Vietnam War
. This site is all about information and history that is not readily available elsewhere on the Internet. We think West St Paul Antiques is one of the best Antique Malls in the State of Minnesota and we have been working hard to create that excellence for the last 12 years. We have expertise on
Antiques
&
Collectibles
and as we read and study about history and antiques we also strive to be historians. We will share that expertise with you and all the visitors to our site. Stop by and visit our Antique Mall in West St Paul, Minnesota. Or, you are all welcome to visit us on the web.
This is a new website for us at West St Paul Antiques. We hope you enjoy the site. Please feel free to email me directly at
floydruggles@weststpaulantiques.com
if you have any questions or feedback about this site. Please sign our
guest book
and check out our
Poetry Coffee Cup Cafe
, or the
Out and About Gallery
. The
Reference Library
and all 5
Museums
are open to you 24/7 on this website. Stop by one of the
1st Recon Battalion
pages where you can read about my experiences in Vietnam. Oh, by the way, also check out all our
Antiques
,
Collectibles
,
artwork
,
art pottery
,
clocks
,
mall specials
,
furniture
types
and
styles
,
jewelry
and
militaria
items for sale on this site and in our Antique Mall. Check it out by going to
Antique Mall Tour
. This site will be totally commercial free with no fees to pay. I'll be working on this site over time so bear with me. It should be finished by the end of 2010 with over 500 pages at that time and 900 pages by the end of next year.
Click here to go to our web
Site Map and Categories
.
Click a NEW link
To browse our Home page
,
Look over our Museums
,
1st Reconnaissance Battalion pages
,
Recon Photo Gallery
,
Out and About Gallery
,
Poetry Coffee Cup Cafe
,
About Us
, Christmas Index, Antique Mall Tour, Albrook,
Antiques
&
Collectibles, Furniture, Jewelry, Art Pottery, Artwork, Militaria,
Contact Us
,
Hours and Directions
,
Dealers pages
,
Consignment
,
Ebay Store
,
Translate this Website
,
Our Blogs
,
Books
,
Bottles & Jars
,
China, Crystal & Glass
,
No Man Left Behind
,
Who Was Really the First President of the United States
,
Halloween pages
,
Primitives
,
Antique Photos
,
Golden Age of Country
,
Jake's Corner
,
Soldiers Walk
,
4th of July
,
Legend of the Ground Hog's Day
,
Rush Act
,
Mayfly
,
San Antonio Riverwalk
,
Oklahoma City Bombing
,
Recon Reunion Gallery
,
Willow
,
State Capitols
,
Our Family & Friends
,
The Alamo
,
50 States & Cities
,
Stories & Poems
,
God Bless America
,
21 Gun Salute
,
Music from WW2
,
USMC Museum
,
The Day Eagle Cried
,
Financial Tip of the Year
,
Como Park
&
Remembering The 50's & 60's Music Index
.
or
Go to the top of each page of our website for the menu bar of categories. You will see a drop down menu appear for each category. Click a link to browse or click our

Site Map and Categories to find your link.


An award-winning Antique Mall - from our 1st year in 1998 to the present
Shop Where the Dealers Shop!