North High School
Class of 1966







Last Update February 18th, 2021 4:20 PM
In Memory of
May 20th, 2012
It is with deep sadness that we report the news of the death of

Dennis F Sazenski

. He is greatly missed by his family & friends. We give thanks for Dennis's life.
| | | |
| --- | --- | --- |
| | Dennis F Sazenski Passed Away May 20th, 2012 | |
P
assed away unexpectedly on May 20th, 2012 Preceded in death by parents Frank and Delores Sazenki; sister Judith Sazenski. Survived by children Todd Sazenski (Bonnie O'Shields) and Tara Bailey, Eliana; granddaughter; ex wife & life long friend Carol Duerscherl. Also survived by sister Jackie; brothers Mike, Frank, Patrick and Harold as well as many aunt, nieces, nephews & cousins. Former owner of Denny's and Don's Bar & Grille, Dockside Inn of Independence, MN, Thumper's of Mpls, Peabody's of St. Paul. Visitation at Washburn- McReavy NE, Mpls. MN Thursday, 4-6 pm. Reception following.
Sazenski, Dennis Frank of Mpls, MN. Born 03/05/ 1947. Passed away unexpectedly on 5/20/2012. Preceded in death by parents, Frank & Delores; sister, Judith. Survived by children Todd (Bonnie) & Tara Bailey (Eliana, grnddtr); ex wife & lifelong friend, Carol Duerscher (Jon). Also survived by sister, Jacqueline; brothers, Mike, Frank Jr. (Debbie), Patrick (Renae) & Harold "Lucky"; as well as many nieces, nephews, cousins & an aunt. Denny was the consummate bartender and charmer of every customer waited on. He was known by his signature dress code of well-worn jeans, cowboy boots, large belt buckle & sometimes his cowboy hat of the day. Former owner of Denny's & Don's Bar & Grille, Dockside Inn, Thumper's & Peabody's. Visitation at Washburn McReavy NE Chapel, 2901 Johnson St. NE, Mpls., 4-6 PM Thursday eve. Please wear cowboy attire in honor of Denny's relaxed attitude to life. He loved the Minnesota Twins & horse racing (I'll Have Another has a new cheerleader from the clouds above).

Published on May 22, 2012



1) My Dear and Unforgettable cousin Denny,
So sad that you are gone; so many good memories from our younger days and family picnics, weddings and your many work venues. So good at making those you spent time with feel special. You will be missed so much.
Love you and miss you forever,
Cousin Elaine (Halek) Yost
P.S. "I'll Have Another" is my pick for the races also! One more to go!
2) To denny's fam. none of you know me, and that is fine. I dated him briefly as a teen. long time ago. it is a fondest memory--a crazy warm november day, we went horseback riding. don't know whose horses they were. and he picked me up in a caddy with top down. he was a cutie pie, sweet and a gentleman. RIP Denny, and thanks for the memories. My deepest sympathies to the family.
3) I am so sad today as I just found out about Denny's passing. My sister Brenda and I (Linda) had such a great time with Denny and Mickey when we were up north in McGregor at Red Rock Bar and Grill. It was a few years ago but it seemed like it was just yesterday. Denny so polite and hilarious at the same time. I will never forget the great times we all shared at Thumpers also. Rest in peace Denny you will be missed deeply.
4) I will never forget the first time I laid eyes on Denny, He was so handsome, sharp dressed and a CHARMER!!!!! I had my best times @ Thumpers North with my sisrter Linda & friend Julie! Denny & I shared some special moments together. I will miss you Denny. Brenda
5) Gonna miss you Uncle Denny. Had some awesome times together. I remember many nights hanging out at Red Rock's Bar with the best bartender ever. You had a way with people that no one could ever emulate. You will be missed. Love ya.
6) How sad to hear of Denny's passing...my summers at Lake Minnewawa growing up were always LOTS more exciting when the Sazenski kids and Grandma would show up next door for the summer. One time vehicles showed up pulling horse trailers with... REAL horses... we couldn't believe it.
Denny had a '59 or'60 Chevy Impala hardtop--metallic gold and very fast. We went fishtailing down the gravel roads -- what a kick for a 15 year old. He also had a '32 or'36 Ford coupe street rod with no hood and all engine. I guess I recall all these things because Denny was always a kind guy and took an interest in me - and he liked to say "I appreciate it" when someone was kind to him. His first water skiing was behind my Dad's boat and he thought it was the nicest thing to do. I could go on and on with memories!
The last time I saw Denny was many years ago at the Dockside when I walked in and he recognized me right away. I wish I had stayed in touch with him. My growing up years were truly enhanced and more exciting by my knowing Denny.
7) "What I am feeling right now is hard to put into words."
"Denny was such a good creative person, and I am so sorry he died." I wish I could be there to say the things that I want to say to in his final resting place. Denny will be missed by me and many others.
Joe Sazenski
North High School
Class of 1966
"I want to thank two classmates, Linda Nelson Ryan & Donna Merchant Lehtinen for letting me know about Dennis's passing. I appreciate your help thank you."
Click to Listen To The Music!


"I heard it through the grapevine"
North




H

i

g

h




S

c

h

o

o

l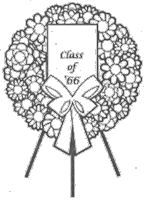 Rest in Peace Dennis
Go in peace and remember you are not forgotten while I am still on patrol.

| | |
| --- | --- |
| Thank You | For Stopping By... |
Previous Page




Minneapolis North High School

Class of 1966 -

Index page




Next Page